Speech & Language Therapy
Speech-Language therapy services provide a wide range of services, mainly on an individual basis. Speech services begin with initial screening for communication and swallowing disorders and continue with assessment and diagnosis, consultation for the provision of advice regarding management, intervention and treatment, and provision counseling and other follow up services for these disorders.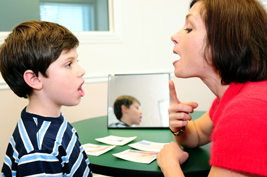 Occupational therapy is concerned with an individual's ability to function in everyday life activities and occupations that provide meaning to the individual's life. O.T. is important when an individual's ability to participate in and / or perform these tasks (e.g., self-care, work, going to school, play, social interaction and living independently), is affected or compromised by illness, disease, disability or disorder. Gross Motor
Core exercises
Shoulder exercises
Bilateral co-ordination activities
Hand eye coordination exercises
Mid-line crossing activities
Fine Motor
Hand exercises
Finger exercises
Wrist exercises
Shoulder exercises
Motor delay
Sensory issues
Poor co-ordination
Core strength and stability (including grip)